On a windy day in February 2023, I set out armed with a flask of soup, some fingerless gloves and my sketchbook, to the village of Craster on the Northumberland coast. From there it was a short walk along the grassy coastline to Dunstanburgh castle. The castle is a beautiful ruin with sweeping views out to sea, but I had chosen a less obvious spot for my study that day.
I nestled in out of the wind right at the tip of Embleton Bay, sitting on the large, round stones just by Greymare Rock, a geological fold which is part of the Whin Sill which features so prominently in Hadrian's Wall country. From here, you get a wonderful view of Gull Crag with its wheeling seabirds, and Lilburn Tower, the castle's northern watchtower, up above.  
Sketches and photographs, for me, are always the first stage in making a print. The second happens in my head. I spend a long time thinking about the print before making it, working out the layers and the blocks. I then make a plan of the various stages involved, drawing out the overlapping layers.
The Greymare print in the end, was made with 2 blocks and printed in 5 colours. The first block was a reduction print, used for the pale greys of the clouds and the rocks, and the blue of the sky. The second block was used to print the green of the hill and the dark shadows.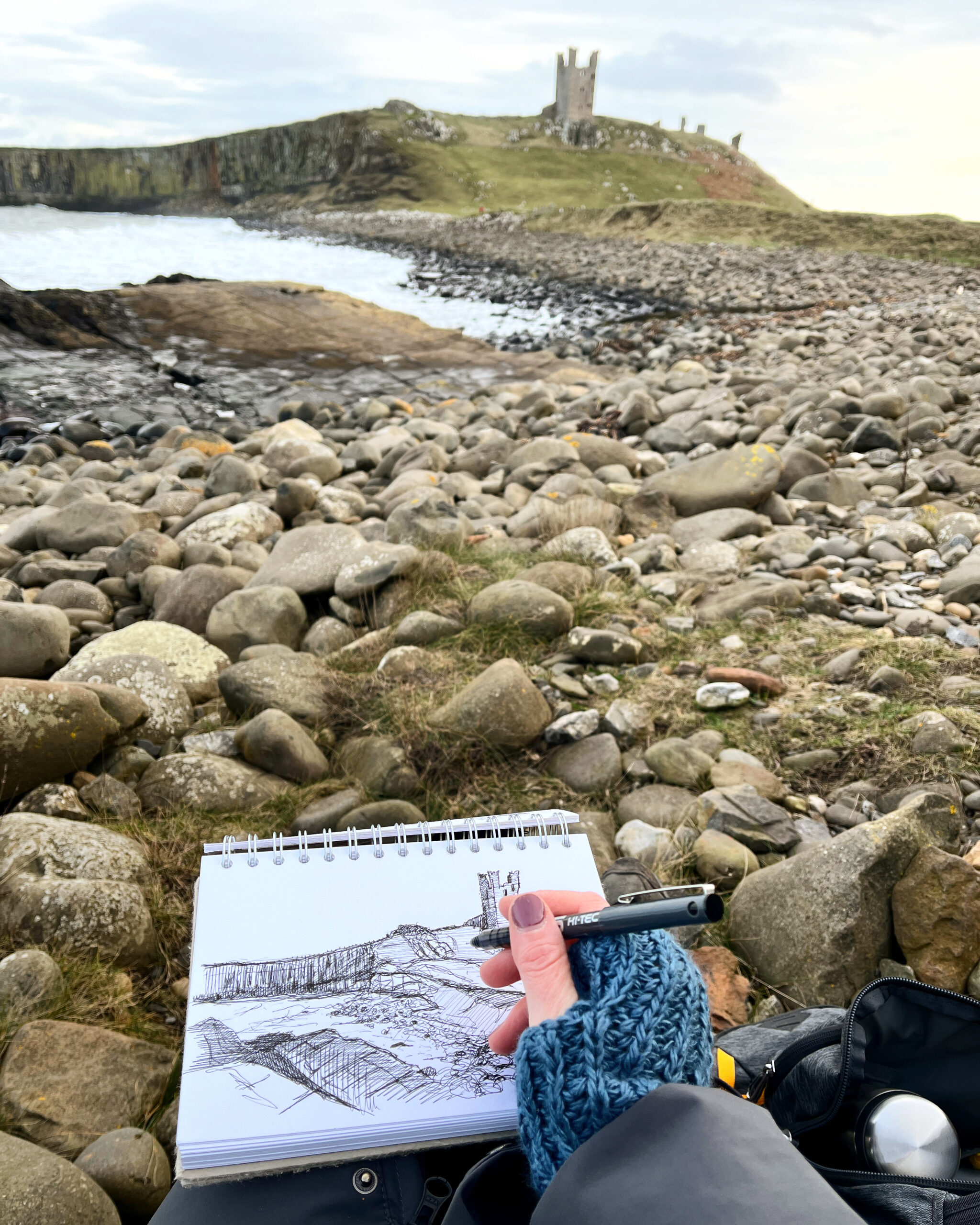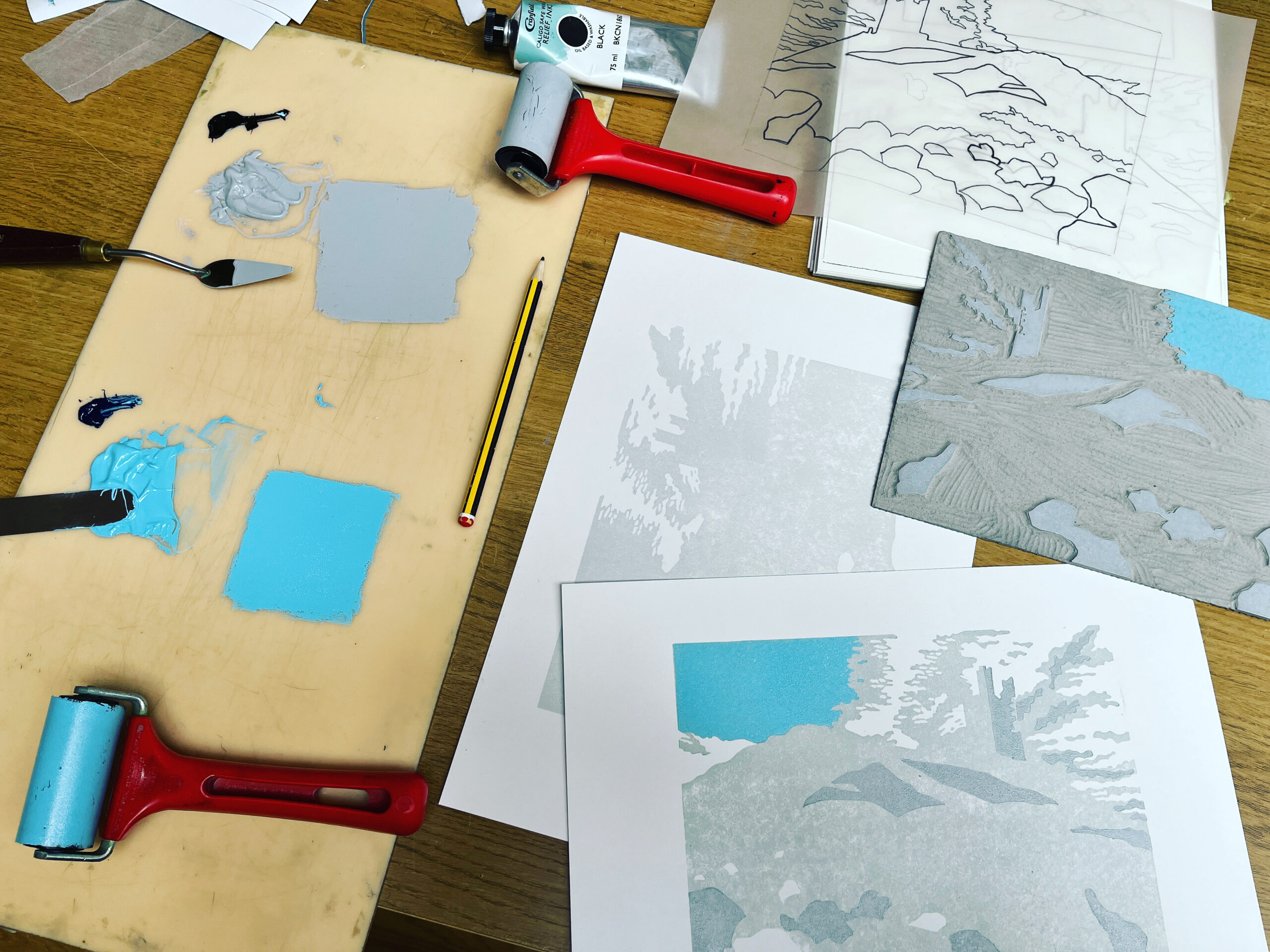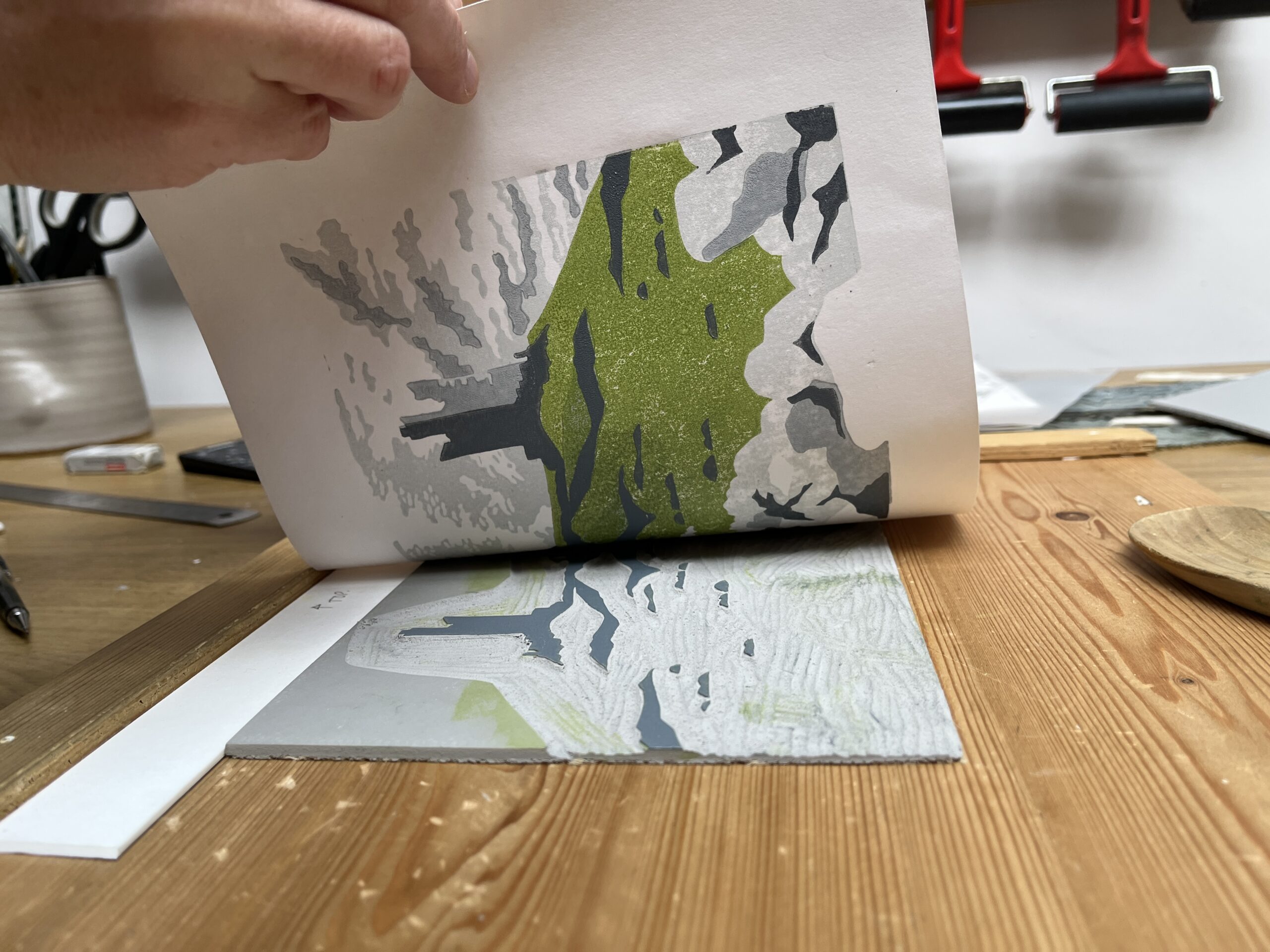 Here you can see the printing process, layer by layer and colour by colour. As each layer must be dry before the next layer can be printed, the process can take a long time. The finished prints were then hung on my newly made drying rack for their final dry. When framed, the print looks bright and fresh, and reminds me of family coastal walks. We sometimes take a picnic to eat on the beach at Embleton, or occasionally carry on as far as Low Newton, to enjoy a crab stottie at the Ship Inn.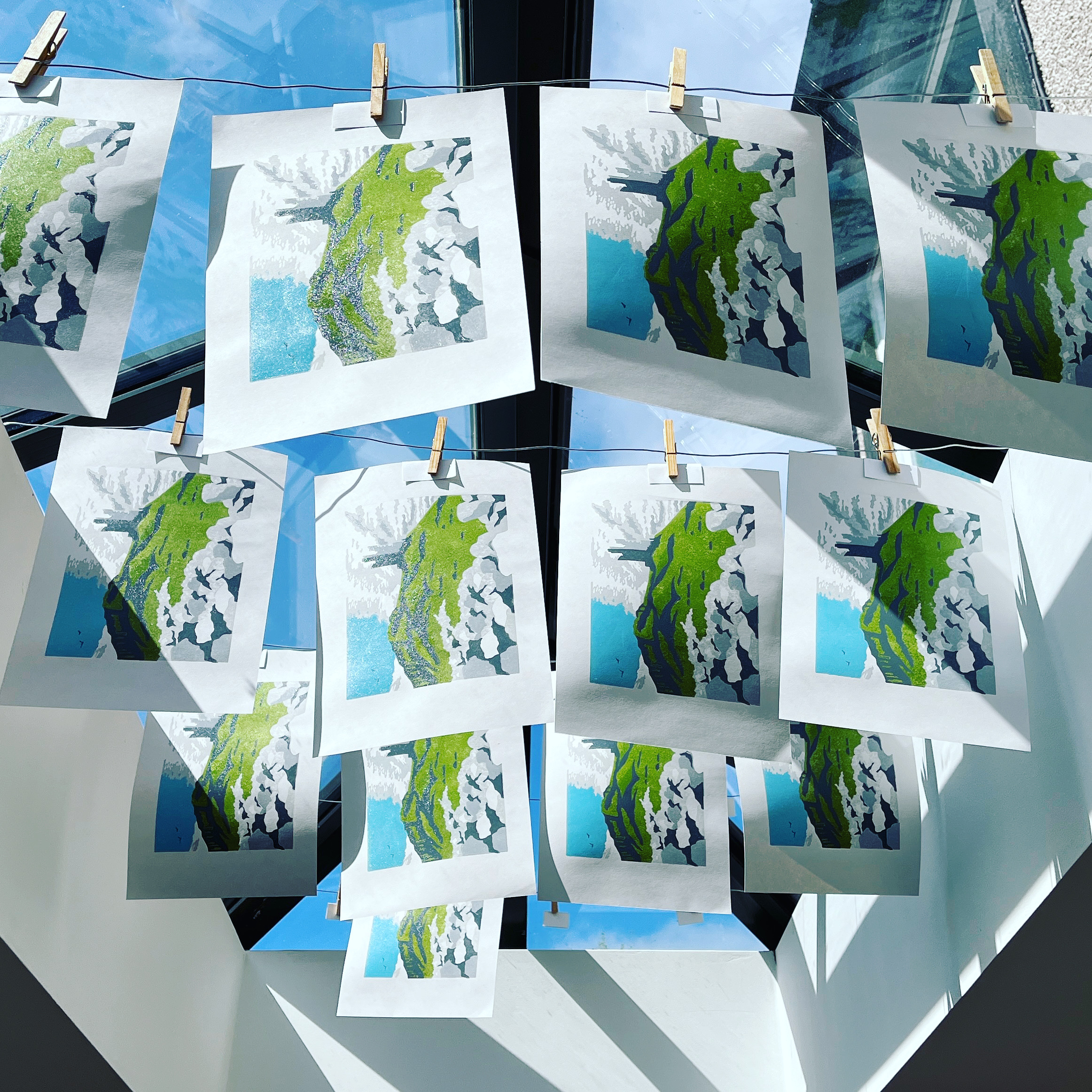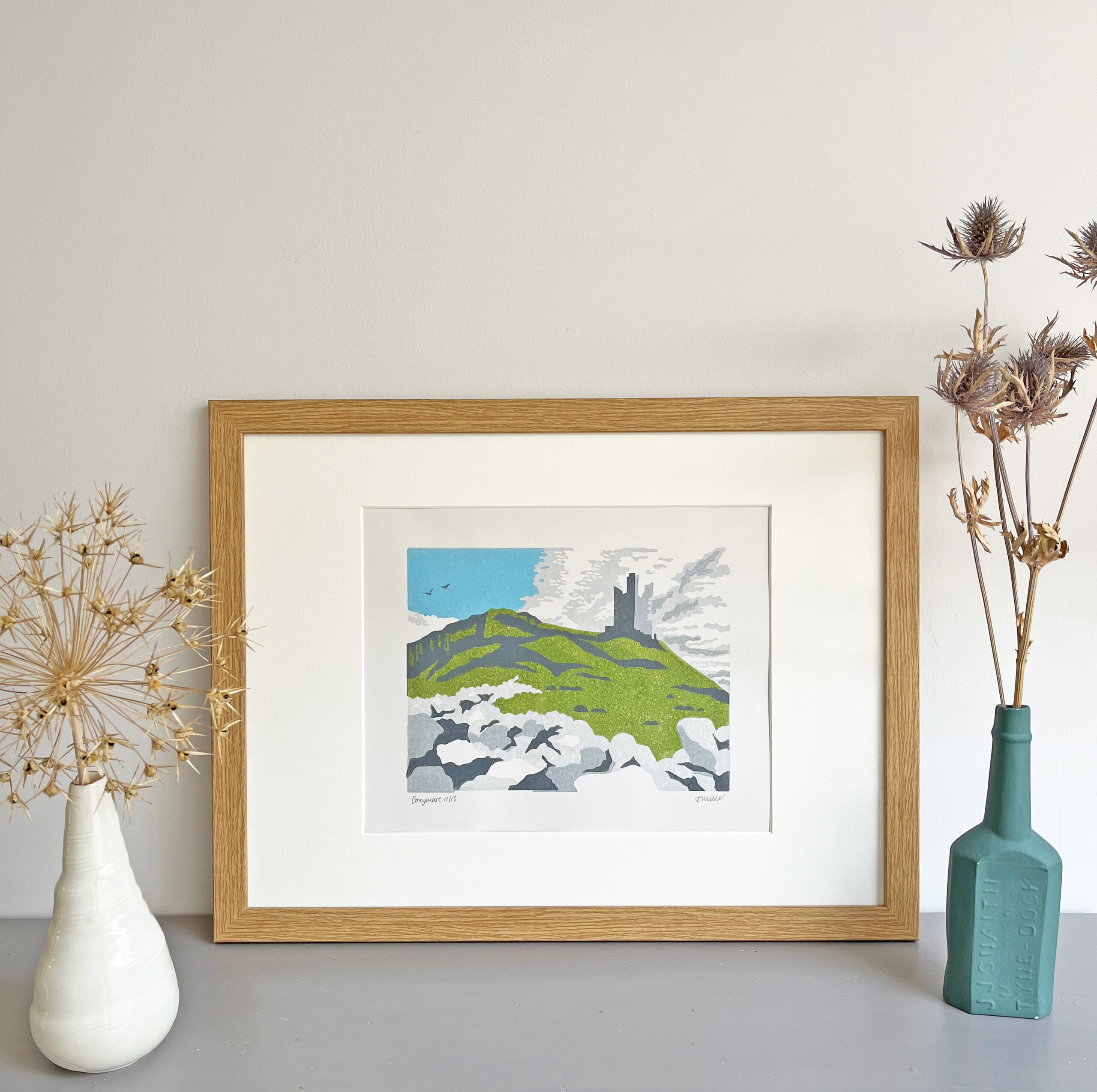 There are 13 prints in this limited edition, available in the online shop.